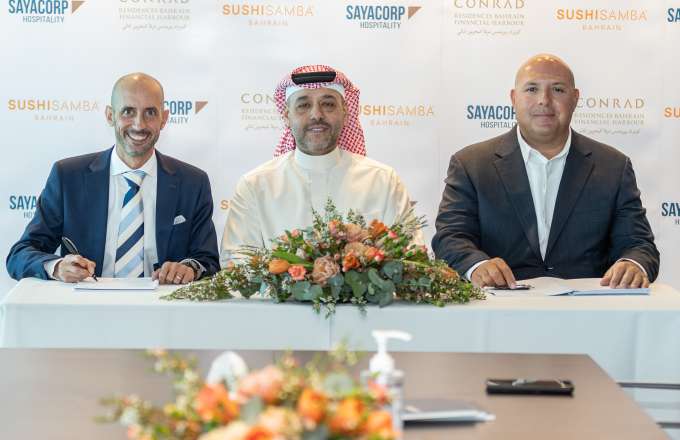 L-R- Aligi Gardenghi (Vice President, Operations, Arabian Peninsula, Hilton), Fawaz Al Jowder (CEO, SAYACORP AQAR on behalf of SAYACORP HOSPITALITY) and Omar Gutierrez (Group Co-CEO SUSHISAMBA)
Manama, Bahrain, 15 May 2023 – Hilton (NYSE: HLT) has announced the signing of an agreement with SAYACORP Hospitality to introduce the iconic SUSHISAMBA restaurant brand to the highly anticipated Conrad Residences Bahrain Financial Harbour – marking the debut for the global brand in the country, SUSHISAMBA is expected to open in late 2023.
Commenting on the signing, Emma Banks, vice president, F&B strategy and development, EMEA, Hilton, said: "The signing of SUSHISAMBA in partnership with SAYACORP Hospitality, marks Hilton's second SUSHISAMBA restaurant in the region after SUSHISAMBA Doha. Part of the upcoming Conrad Residences Bahrain Financial Harbour in downtown Bahrain, we are excited to see the restaurant deliver the highest standards of hospitality, lifestyle, and culinary experiences as part of this globally renowned brand."
SUSHISAMBA Bahrain will bring a unique blend of Japanese, Brazilian, and Peruvian culture and cuisine. The restaurant will feature a stunning design, bar, terrace, and pool with sweeping views of the Manama seafront and Bahrain Bay. The new location will join the brand's highly acclaimed venues in Dubai, London, Doha, and Las Vegas.
Fawaz Al Jowder, CEO of SAYACORP Aqar on behalf of SAYACORP Hospitality, said: "We are excited to sign this partnership with Hilton and SUSHISAMBA. This will be one of the most unique culinary concepts coming to Bahrain, with captivating 360-degree views from the hotel's rooftop showcasing both the city and seafront. This agreement cements our support for Bahrain's Vision 2030, which includes a wealth of upcoming developments designed to entice business and leisure travellers to the region."
SUSHISAMBA Group Co-CEO, Omar Gutierrez, said: "We are excited to bring SUSHISAMBA to Bahrain and are proud of our collaboration with Hilton and SAYACORP Hospitality W.L.L. Bahrain is an incredibly interesting, diverse country, bustling with culture, hospitality, and business commerce, which makes it a perfect location and natural fit for the next phase of SUSHISAMBA."
Hilton currently operates two hotels in the Kingdom of Bahrain – Hilton Bahrain and Hilton Garden Inn Bahrain Bay and has another two openings in the pipeline – Conrad Residences Bahrain Financial Harbour and Hilton Manama City Centre Residences.
To learn more about Conrad Residences Bahrain Financial Harbour, please click here.
–END–
About Hilton
Hilton (NYSE: HLT) is a leading global hospitality company with a portfolio of 19 world-class brands comprising more than 7,200 properties and more than 1.1 million rooms, in 122 countries and territories. Dedicated to fulfilling its founding vision to fill the earth with the light and warmth of hospitality, Hilton has welcomed more than 3 billion guests in its more than 100-year history, earned a top spot on Fortune's 100 Best Companies to Work For list and been recognized as a global leader on the Dow Jones Sustainability Indices for six consecutive years. Hilton has introduced several industry-leading technology enhancements to improve the guest experience, including Digital Key Share, automated complimentary room upgrades and the ability to book confirmed connecting rooms. Through the award-winning guest loyalty program Hilton Honors, the more than 158 million members who book directly with Hilton can earn Points for hotel stays and experiences money can't buy. With the free Hilton Honors app, guests can book their stay, select their room, check in, unlock their door with a Digital Key and check out, all from their smartphone. Visit stories.hilton.com for more information, and connect with Hilton on Facebook, Twitter, LinkedIn, Instagram and YouTube.
About SUSHISAMBA
SUSHISAMBA celebrates the culture and cuisine of Japan, Brazil, and Peru. The multi-sensory experience combines innovative food, creative beverages and a renowned energy and spirit that is beloved – and recognized – around the world. SUSHISAMBA menus are a thrilling mix of new and signature dishes with an emphasis on flavors, the finest ingredients, and artful presentations. Complementing the cuisine, the restaurant offers specialty cocktails, cultural spirits such as Japanese whisky and sake and a large selection of wine and Champagne. SUSHISAMBA operates locations in Las Vegas, London, Dubai, Doha and soon to be open Bahrain, Riyadh, Edinburgh, and Milan.  For more information visit www.sushisamba.com and follow on social: @SUSHISAMBA.
About SAYACORP HOSPITALITY:
SAYACORP Hospitality is the hospitality management subsidiary of SAYACORP AQAR & SAYACORP based in the Kingdom of Bahrain. The luxurious Conrad Residences by Hilton and SUSHISAMBA restaurant are the latest additions to their growing portfolio of international brands. The brands will be housed in the SAYACORP Tower – a newly developed, mixed use development property in the Bahrain Financial Harbour, which will be fully operational by Q3 2023.
For more information about SAYACORP Hospitality, please contact us at info@sayacorphospitality.com.